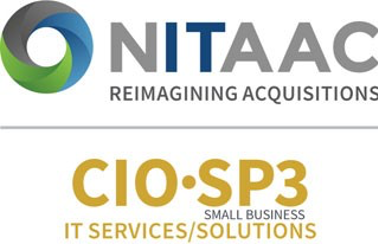 HEALTH INFORMATION TECHOLOGY SUPPORT SERVICES (HITSS) JV is a Joint Venture partnership of Integrated Systems, Inc. (ISI), Book Book Zurman, Inc. (BZI), ASRC Federal Highland Technology (Highland) Sliktec Consultancy Services, Inc.(Sliktec). Integrated Systems, Inc. (ISI) is the Managing Partner of the HITSS JV. We are a small business who understands the NITAAC contracting environment and fully embraces the concept of industry partnership with our customers and end users. We are truly a customer-centric company who values our customers and provides that personal touch and attention they deserve.
Our corporate foundation is built on quality processes and services for our customers. We have ISO 9001, ISO 20000, ISO 27001 and CMMI Level 3 Quality certifications.
National Institutes of Health (NIH) Information Technology Acquisition and Assessment Center (NITAAC) Chief Information Officer – Solutions and Partners 3 (CIO-SP3) Small Business Government-wide Acquisition Contract (GWAC) is a ten (10) year Indefinite Delivery/Indefinite Quantity (IDIQ) contract. This 10-year multiple award, indefinite-delivery, indefinite-quantity contract can be used by any federal civilian or DoD agency to satisfy their information technology requirements. The IT solutions and services include health and biomedical-related IT services to meet scientific, health, administrative, operational, managerial, and information management requirements. These task orders can employ various pricing arrangements such as Firm-Fixed-Price (FFP), Cost-Plus-Fixed-Fee (CPFF), Cost-Plus-Award-Fee (CPAF), Cost-Plus-Incentive-Fee (CPIF), and Time-and-Materials.
Using NITACC – CIO-SP3
CIO-SP3 contract holders went through a rigorous source selection process prior to award, which includes dimensions such as technical capabilities, past performance, price and cost. This enables Contracting Officers (CO's) to use simplified evaluations at the task order level, resulting in significant savings in time, money and resources.
Ceiling rates were negotiated at the Master Contract level to be the best available. When your agency places a task order, you are already starting with the most cost competitive rates, and competition will drive them even lower.
NITAAC's online system (e-GOS) streamlines the acquisition process even further with automatic distribution, built-in FAR guidance, and more.
NITAAC offers the following program benefits to all customers:
Easy-to-use, secure web-based e-GOS ordering system for automated task order competition, management, awardee selection and notification
No special "Delegation of Procurement Authority" is required by NITAAC
Customer Support Center provides one-hour response to any contractual, technical or procedural question
One-day turnaround on free, comprehensive SOW/SOO assessment for every task order assures quality responses
Free training on GWACs, FAR 16, NITAAC contracts, and NITAAC online ordering systems; certification for 2 CLPs awarded
For More Information Contact: Indrani Seetharam, HITSS JV, CIO-SP3 Program Manager, ISeetharam@HITSS-JV.com or phone 703-288-4030