About HITTS JV
---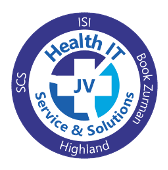 Health IT Service and Solutions Joint Venture (HITSS JV) is a full spectrum health solutions provider delivering across the CIO-SP3 Task Areas, from Policy and Requirements Planning to Practice and Realization of Outcomes, by applying a highly integrated governance model and employing a proven, agile program management and task order response approach with established portfolio management principles and operating in full alignment with our rapid life cycle framework.
A foundational element of our formation are the external laws and guidance that establish key drivers for the Biomedical Research, Health Sciences, and Healthcare community at-large, as well as the application and implementation of information technology for that community. HITSS comprises Member companies ("Members") each of which has been part of this effort since the initial Federal Enterprise Architecture included the Federal e-Gov initiatives, the Federal Health Architecture, OMG's Healthcare SOA Reference Architecture (H-SOA-RA), Office of the National Council for Health IT (ONC) initiatives, and began to coordinate conversations across the federal community and Standards bodies about Health IT, outlining a need for coordination of nationwide efforts to implement and use the most advanced health information technology and the electronic exchange of health information. Our team has strong past performance assisting clients in many of the areas covered by these mandates.
HITSS JV consists of the four small businesses, and has been brought together for the specific purpose of providing quality and comprehensive implementation across the CIO-SP3 Task Areas. The members are highly complementary with the proven experience, qualifications, structure and resources to provide solutions and services across 7 CIO-SP3 task areas.
The HITSS JV brings together all of our substantial Health Service and IT capabilities supported by a remarkable Indefinite Delivery Indefinite Quantity (IDIQ) program track record. This organization, led by a highly experienced management and marketing team, and supported by a robust set of management processes and tools, offers NITAAC effective CIO-SP3 marketing, quality task order responses, and superior task performance.
HITSS JV includes the following member companies: Integrated Systems, Inc. (ISI), Book Zurman, Inc. (BZI), ASRC Federal Highland Technology (Highland), ASRC Federal Highland Technology (Highland). Additionally we have brought on board UNC's Gilling's School of Global Public Health, which works extensively and broadly with corporations, healthcare, pharmaceutical industry, and the IT industry as a team member. Integrated Systems Inc. is the Managing Partner.
Integrated Systems, Inc. (ISI), a ISO 9000, ISI 2000, Iso 27001 and CMMI Level 3 appraised company, incorporated in 2000, is a rapidly growing leading provider of a broad spectrum of innovative technology and professional services that help organizations translate their strategic business goals into IT initiatives that deliver enduring results. For over 20 years, ISI's unique combination of experience, disciplined management, exceptional talent, innovation and collaboration has enabled the company to consistently exceed the challenges for some of the most prominent and demanding business environments in the world. ISI's portfolio of services includes: program and project management, business process and systems engineering, software design and development, full lifecycle testing services, IT operations and maintenance, training, enterprise and systems architecture, cyber security, modelling and simulation, and strategic business and IT planning, which we provide to customers primarily across the Financial, Health and Security domains. ISI's mature and certified processes combined with a broad spectrum of business domain and technical expertise has helped ensure that solutions implemented maximize the client's investment and be delivered with the highest quality.